SAMOYED COLOR
(Click to enlarge)
Ch. Metak's Gold N' Days
Daysi at 6 years old and 10 years old - The biscuit normally darkens with age. Yet many white Samoyeds, you will see the biscuit come in later in life. Here she is at 10 years old. Although there is more coat, longer and thicker, with the quality of her coat, it's still correct and easy to care for with correct frequent grooming.
EXCERPTED FROM AN ARTICLE IN DOG WORLD
PUBLISH DATE - APRIL 1972
Note: Personally I do not believe that the biscuit color provides a darker eye. I also do not believe that a dark eye is needed to face the extreme elements in their native land. A good example is the blue eyes in the Siberian Husky which is totally acceptable in their breed. The Samoyed and the Siberian are from different parts of the country yet come from the same environment. The dark brown eye is for cosmetic purposes only within the Samoyed.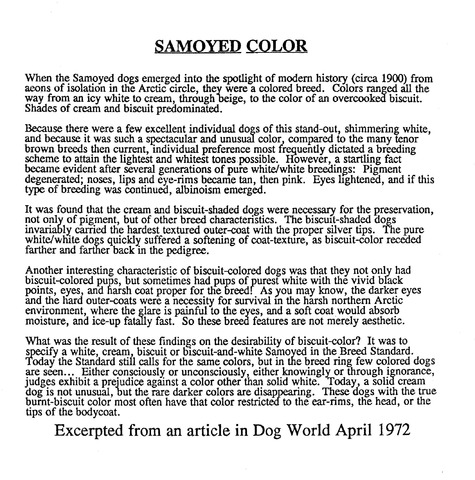 BISS, BIS GCHB Metak's Miss Demeanor, FDC, HIC
Miina (Pure White with Biscuit Spotting)
Dam, Daysi (above) has a dark saddle coloring (age 10)
Sire, Bailey (below) has light biscuit/cream coat (age 7)
Ch. Karatyll's MJA Tribute
Bailey at 7 years of age - Notice the correct plush coat that the article speaks of.