AMERICAN KENNEL CLUB
LIMITED REGISTRATION PAPERS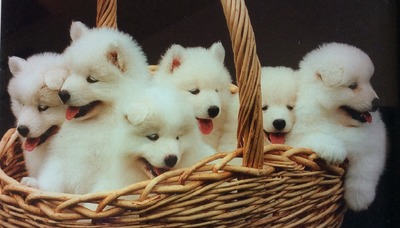 So you are looking for a registered companion puppy however breeding and showing is out of your scope. If this is your case than Metak Samoyeds will supply you with the American Kennel Club's (AKC) "Limited" Registration Papers.
The following information has been taken from the American Kennel Club website explaining exactly what Limited Registration is.

"American Kennel Club (AKC) Limited Registration means that the dog is registered but no litters produced by that dog are eligible for registration. Each registration certificate for such dog shall carry notice of the limitation regardless of any change of ownership, unless the owner(s) of the litter at birth shall apply to AKC for removal of the limitation.

A dog registered with an AKC Limited Registration shall be ineligible to be entered in a breed competition in a licensed or member dog show. It is eligible, however, to be entered in any other licensed or member event. These events include: Obedience, Rally, Tracking, Field Trials, Hunting Tests, Herding, Lure Coursing, Agility, Earthdog and so many other AKC events that are offered.

Limited Registration is determined by the litter owner(s). The litter owner(s) check the Limited box on the AKC Dog Registration Application.

Limited Registration certificates are white with an orange border; the Full Registration certificate is white with a purple border.

Limited Registration helps breeders protect their breeding programs. If breeders do not want puppies used for breeding purposes, they can request the Limited Registration option for those puppies."
NOTE: With an exeption of the UKC, other registries allow you to register any dog. Just because they claim to be "registered" does not mean your getting a purebred dog. Any dog registered with the AKC, both parents must also be registered with the AKC or your puppies can not be registered - No Exceptions! This is the reason that other registeries have surfaced. Buyer Beware!!!
We hope this information will give you a better understanding of the process and success of purchasing an AKC purebred dog.