New Herding Instinct Test Titles
SAMOYED CLUB OF AMERICA'S
2019 NATIONAL SPECIALTY
S. Sioux City, Nebraska
MBISS, MBIS, GCHB Metak's Miss Demeanor, FMC, HIT (Miina) & Metak's Sunrise Ruby, HIT (Ruby) had a blast in Nebraska playing with sheep. Each earning their Herding Instinct Test (HIT) Titles.
Samoyeds are a herding breed and this is all natural instinct which makes it so much fun to watch. To see them perform and do what they were bred to do 100's of years ago without any training is amazing.
Miina and Ruby have never seen sheep and their ability to herd makes me proud. As a reputable breeder, we work hard in the preservation of our Samoyed's not only as a picture of beauty and intelligence but most importantly as a working dog.
Thank you for these fabulous photo's Vicki Dice, Urban Pulse Photography!
MIINA, HIT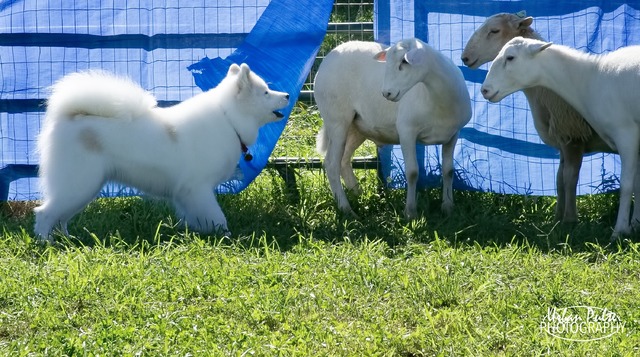 RUBY, HIT
What a wonderful day sitting on a beautiful farm, watching 20 Samoyeds do what they were bred to do with success.