2 Honorable Wins at the 2018 Natl Specialty by Miina
Samoyed Club of America's 2018 National Specialty
Held at Purina Farms in Gray Summit, MO
GCH. Metak's Miss Demeanor, MBISS, Natl. BIS
Miina's Honorable Wins
The "Top 20 Invitational" &
The "People's Choice" Award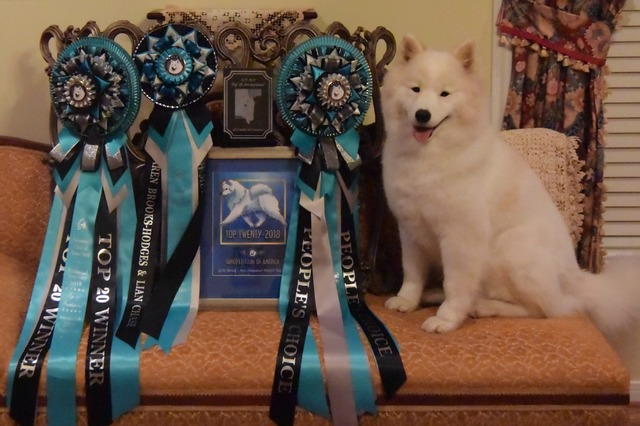 An invitation was sent to the Top 20 Samoyeds in the country to compete in the Samoyed Club of America's National Specialty Top 20 Invitational Samoyed competition. The Judges where (3) highly respected Breeder-Judges, Jan Cherne, Diane Garcia, & Larry Mackai. Their points were tallied and the winner would be announced at our annual awards banquet on Saturday night.
This event was done first class all the way by Karen McFarlane and her fabulous team. From the formal atmosphere, the horderves were delightful and plentiful and the logo was a classic. A life sized Samoyed Topiary created by Suzanne Gardner Rosehart​​ stood at the entrance. Everything was spectacular!!!
When the Top 20 Invitational judging was complete, each team went back into the ring for an individual performance. As the song (chosen by the owners) played in the background, the emcee read the accomplishments of each dog. The attendee's "People's Choice" votes were in and the Top 20 teams went back into the ring. GCh Ch Metak's Miss Demeanor's, "Miina's" name was called as the winner of the "People's Choice" Award. To be chosen for this award by your peer's was amazing and a thrill.
At the Awards Banquet on Saturday Miina was also awarded the winner of the "Top 20 Invitational" competition. To get the invitation was so exciting but to win both of these prestigious awards was such an honor. To add to that, I bred Miina and she is almost always owner-handled. What a high and what a special girl she is!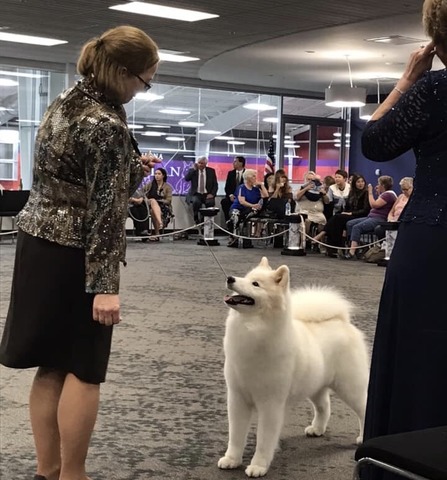 ~*~
Treasure's from an Unforgetable Night
Click to enlarge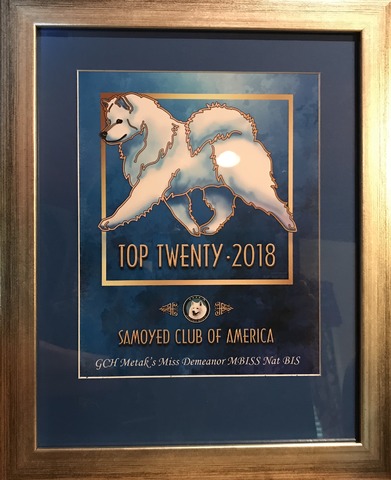 ~*~
Many thanks to Anne Kikukawa, Lee Roark & Suzanne Garder Rosehart for these photo's. Each one allows us to hold on to these amazing and memorable wins. A dream come true.